View all posts
Andrea Apuzzo, Chef-Proprietor of Andrea's Restaurant
09/29/2021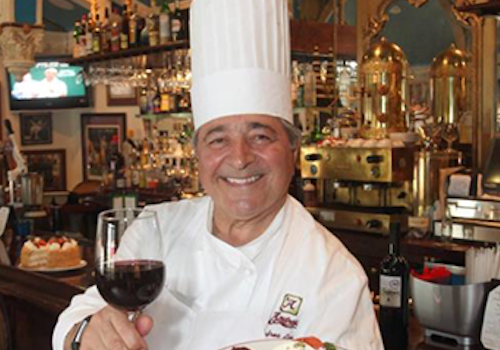 Andrea Apuzzo, Chef-Proprietor of Andrea's Restaurant in Metairie, Louisiana, was born and raised on the Isle of Capri, Italy.
Chef Andrea began his formal culinary education while working in a bakery in his home town of Anacapri at the early age of seven. At 14, he left Capri to travel to Germany, Switzerland, England and South America to further his culinary training in some of the best hotels in Europe and abroad.
After working 35 years in kitchens all over the world under some of the finest, most respected chefs, Chef Andrea moved to Bermuda in 1973 to work at the Southampton Princess Hotel and later in Hamilton Princess Hotel. In 1975, he came to the United States as Executive Sous-Chef of the Omni International Hotel in Atlanta, Georgia. And in 1977 he moved to New Orleans as Executive Chef of the Royal Orleans Hotel; a position he held until January, 1985 when he left to open
Andrea's
, his life-long dream.
During the course of his culinary work experience, Chef Andrea has prepared culinary dishes for such notables as Queen Elizabeth, Princess Ann, President and Mrs. Jimmy Carter, Senator Ted Kennedy, Clint Eastwood, Omar Shariff, Sophia Loren, Senator Jack Kemp, Lee Meriwether and Tommy Lasorda.
In 1990, Chef Andrea published his first cookbook, "La Cucina di Andrea's," which contains over 300 recipes from his select collection. In 1994, Chef Andrea published his second book, "Andrea's Light Cookbook," which contains recipes that are low fat, low cholesterol and low calorie dishes and are approved by the American Heart Association and the American Diabetes Association.
Chef Andrea belongs to many prestigious organizations such as
La Confrérie de la Chaîne des Rôtisseurs
, International Wine & Food Society, Vatel Club, Les Toques Blanches, GRI (Gruppo Ristoranti Italiani), James Beard Foundation and the Certified Executive Chef Association, to name just a few.
Presently, Andrea's New Orleans Italian restaurant is growing strong and Chef Andrea is investing a lot of his time in the community by participating in charitable functions, cooking demonstrations and personal service at his establishment. Chef Andrea has received the Wine Spectator Award of Excellence and the DiRona Excellence Award, and many more.
Andrea's Restaurant is open for Brunch, Lunch, and Dinner.
Andrea's Restaurant:
3100 19th Street at Ridgelake
Metairie, Louisiana 70002
Tel: (504) 834-8583