View all posts
5th Annual POWER Plates Program Celebrating Women in Hospitality
06/05/2023
By: Fidelity Bank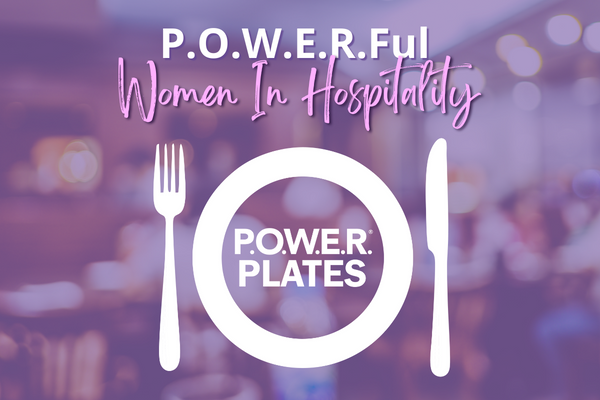 Fidelity Bank and Louisiana Hospitality Foundation Invite Restaurants and Bars to Join Annual P.O.W.E.R. Plates Program Celebrating Women in Hospitality
Monthlong P.O.W.E.R. Plates Fundraising Program Begins Saturday, July 1
Fidelity Bank and the Louisiana Hospitality Foundation (LHF) celebrate women in the hospitality industry with their 5th annual month-long July fundraising program, P.O.W.E.R. Plates, kicking off July 1, 2023.
The monthlong celebration of women in the state's hospitality industry is part of Fidelity's "Potential of Women Entrepreneurs Realized" (P.O.W.E.R.) program, which caters to thousands of female-owned and empowered businesses. The program enlists women-owned, -managed or -led restaurants and bars to participate in the annual fundraising program to benefit hospitality workers throughout the New Orleans region. Each business spotlights one inspiring woman on their team, whether it be the owner, chef or front of the house service provider.
Free to join, the program asks businesses to choose one drink or dish to earmark for the P.O.W.E.R. Plates fundraiser, with $1 going to LHF with each order. As in past years, Fidelity Bank will match donations up to $2,500 for this year's program. Last year more than $21,000 was raised to help hospitality workers in crisis.
"We are always raising awareness of what Louisiana Hospitality Foundation can do to support hospitality workers in need," said the foundation's director Jamie P. Hall. "Since 2006, we have distributed close to $4.8 million in grants to support our community, a real lifeline, especially during challenging economic times. P.O.W.E.R. Plates is an easy stress-free marketing program that is designed to drive business, highlight women and support the fund that directly helps hospitality workers."
The goal of the program is to spotlight LHF and encourage support of women-led restaurants and bars in the New Orleans region during the slower summer business months. "Any hospitality business in
southeast Louisiana can participate," said Hall. "Every $1 makes a difference to a hospitality worker trying to pay rent, utility or medical bills or recover from a disaster like a house fire or the loss of a loved one. We are here to help those truly in need."
"The South Louisiana hospitality industry and their workers are vital to our state," said Tammy O'Shea, Fidelity Bank Chief Marketing Officer. "P.O.W.E.R. Plates' mission is to help support this critical industry by driving business to these women-led restaurants and bars." Fidelity Bank supports participating businesses with an online, print and radio marketing campaign, free of charge.
The month-long fund raiser kicks off with a happy hour featuring guest speakers and the debut of a special P.O.W.E.R. Plates beer tap at program sponsor Port Orleans Brewery, June 27, 5:30-7:30pm. Neat Wines is the participating wine sponsor, with winemakers Mollie Haycock of Scott Harvey Wines and Kathy Flynn of Marchetti Importers providing tastings and commentary at planned luncheons.
Events include:
June 27, 5:30pm-7:30pm P.O.W.E.R. Plates Kick-off at Port Orleans Brewing Co.
July 12, 11:30 am-1pm P.O.W.E.R. Plates benefit luncheon at Windsor Court.
July 19, 11:30 am-1 pm P.O.W.E.R. Plates benefit luncheon at Baton Rouge Marriott.
July 26, 5:30-7:30 pm P.O.W.E.R. Plates Northshore Happy Hour, Southern Hotel, Covington.
Restaurants, bars and supporters can sign up to participate and get more information at www.power-plates.com.
About Fidelity Bank
Founded in 1908, Fidelity Bank is an $1 Billion in assets mutual financial institution chartered by the state of Louisiana. Fidelity Bank provides a full array of banking services, with high integrity and personalized service to communities throughout Southeast Louisiana. Fidelity Bank's mission is HERE FOR GOOD. Visit Fidelity Bank or www.BankWithFidelity.com. Learn about their exclusive program for women business owners at www.FidelityBankPower.com.
About Louisiana Hospitality Foundation
Founded in 2006, the Louisiana Hospitality Foundation's mission is to strengthen Louisiana's hospitality industry through support of individuals within the community. We do this by supporting workforce development programs directly related to our industry; providing access to culinary and hospitality education; working to ensure a positive perception of Louisiana's hospitality industry; and providing financial assistance and/or guidance to people in the hospitality industry during times of crisis. Since its inception, the Foundation has distributed more than $4.8 million in support of its mission. These funds are raised through signature fundraising events including Horses, Hops and Cops, the Zurich Classic and the Gold Medal Chefs Gala & Hospitality Awards.
Contact:
Jamie P. Hall
(504) 858-0046 cell
[email protected]