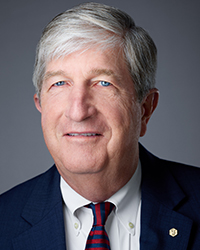 Mahlon Sanford
Director
Industry Expertise
Mahlon D. Sanford has been a Director at Fidelity Bank since 2008.
He is the partner in charge of the New Orleans office of Carr, Riggs, and Ingram, LLC. and has extensive experience servicing community banks and other financial institutions in consulting, accounting and auditing. While working with an international accounting firm, he chaired the Financial Institution Service Group that services approximately 15 financial institutions.
Sanford also serves on the Investment and Budget Committee, Audit Committee (Chairman), Governance Committee, and Board of Directors of Louisiana Medical Mutual Insurance Company (LAMMICO), a medical malpractice company primarily serving physicians in Louisiana.
Sanford served as President and Treasurer of the Board for the Good Shepard Nativity School, President and Treasurer of the Institute for the Louisiana Nature and Science Center, and Treasurer and Vice President for the Board of Trustees of the Academy of the Sacred Heart.
Memberships
Member of the American Institute of Certified Public Accountants
Previous Chairman of the Financial Institutions Committee for the Society of Louisiana Certified Public Accountants, New Orleans Chapter