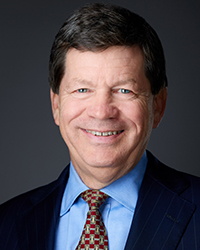 W. Anderson Baker, III
Director
Industry Expertise
W. Anderson Baker, III has been a Director at Fidelity Bank since 2008.
He served as President of Gillis, Ellis & Baker, Inc (GEB) until 2019. This New Orleans-based insurance agency founded in 1933 provides jobs for approximately 55 people and produces over $90 million annually in insurance premiums. Gillis, Ellis & Baker, Inc. (GEB) was selected by the national Underwriter Magazine as one of three national finalists for the magazine's 2007 "Commercial Insurance Agency of the Year" award. National Underwriter presents this award annually to an agency seen as a role model for its peers, running a successful sales organization while serving as risk manager for its commercial clients. In 2012, the firm was named "Agency of the Year" by Rough Notes Magazine.
In 2019, he oversaw the merger of GEB with Arthur J. Gallagher & Co., the world's fourth largest insurance brokerage firm.
He served on Greater New Orleans, Inc's Insurance Task Force, and on their behalf, he has testified before the US House of Representatives on the importance of insurance in the recovery of New Orleans and the surrounding areas following Hurricane Katrina.
Memberships
Director

Certified

® by the National Association of Corporate Directors

Chartered Property and Casualty Underwriter

Associate in Risk Management

Certified as Management Liability Insurance Specialist by Insurance and Risk Management Institute

Former Director of Assurex Global
Former Board Member of the Independent Insurance Agents and Brokers of Louisiana, and Greater New Orleans
Former Board Member of the Bureau of Governmental Research
Graduate of the class of 2002 for the New Orleans Regional Leadership Institute
Former member of Greater New Orleans, Inc. Insurance Task Force
Former Chairman of Radio for the Blind and Print Handicapped
Former President Success Preparatory Academy, a charter school in New Orleans
Former President of CourtWatch NOLA