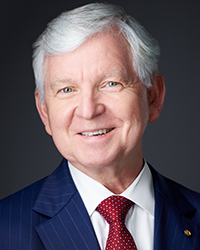 Mark Romig
Director
Industry Expertise
Mark Romig has been a Director at Fidelity Bank since 2015.
He is the Senior Vice President and Chief Marketing Officer for New Orleans & Company, New Orleans' official tourism destination marketing and sales organization. The mission of New Orleans & Company is to enhance the tourism industry through effective marketing and promotional programs.
Romig's public relations career has spanned more than 40 years. His diverse portfolio of work includes U.S. presidential campaigns, corporate public relations and consulting, college instructor and the 1984 World's Fair held in New Orleans.
Mark enjoys being the Voice of the New Orleans Saints. In 2013, he was named Stadium Announcer for the Saints, succeeding his father, Jerry, who served in the role for 446 consecutive Saints home games over a span of 44 years.
Affiliations
Former volunteer President and CEO of the 2018 NOLA Foundation, the non-profit agency organizing the New Orleans' tricentennial celebration.
Former Board Chair of the Louisiana Travel Promotion Association.
Advisory Board Member of the Louisiana Hospitality Foundation.
Board Member of the Legacy Donor Foundation.
Former Board Member of the Audubon Nature Institute.
Former Chairman of the Board of Lazarus House.
Board Member of Covenant House of New Orleans. (2014 - 2016)
Board Member of the Emeril Lagasse Foundation.
Member of the Federal Reserve Bank of Atlanta's Tourism and Travel Advisory Council.
Former Board Member of Xavier University of Louisiana. (2009 - 2015)
Vice-Chairman of the Board of the Fore! Kids Foundation (Zurich Classic).
Past President and Former Chairman of the Allstate Sugar Bowl Committee.
Board Member of the Academy of the Sacred Heart.
Vice-Chairman of WYES-TV (PBS-affiliate).