View all posts
Our New Corporate Headquarters
02/03/2020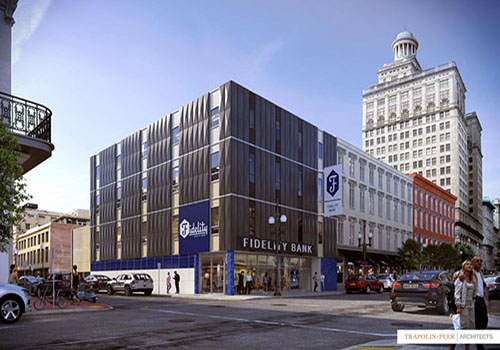 As the CEO of the Fidelity Bank family, I want to share some news and background about an exciting project we've recently started: the relocation of our corporate headquarters to 353 Carondelet Street. There's a lot more to this project than moving offices. Despite its significance as a historical property, the third and fourth floors of the building have been empty for 60 plus years, while the ground floor hadn't been occupied since early 2018. Renovations to both the interior and exterior must be completed before we can take occupancy, and these renovations must comply with the rules governing historically significant properties.
We knew that getting 353 Carondelet Street ready for occupancy would require a larger upfront investment of time, labor, and money, than other relocation options available to us. But, this is the option that is most aligned with our goals and vision for this relocation, and at Fidelity, we believe that if something is worth doing it's worth doing right. Our new headquarters will be the cultural heart of our company. Accordingly, it must facilitate values-driven interactions between the Fidelity team, our customers, and our community, while also providing for our logistical needs such as location and room to accommodate the company's growth.
Does that seem like a lot to ask from an office space? Maybe, but that's been part of the vision since the outset, and not something we were willing to compromise on. As CEO, our success or failure on these (and other) metrics is ultimately my responsibility. Thus, I've already had many opportunities to think about how the Fidelity culture and values have impacted and informed this process, and how to best apply them toward successfully creating our new home.
For example, the choice to invest in the historical renovation despite the availability of easier, faster, options is a great example of the Fidelity "here for good" mindset in action. We consider both the potential impact on the bank and the potential impact on the community we serve and belong to when we evaluate opportunities. In this case, there was the physical impact on the space we'd be moving into, the people in the immediate area, as well as our budget to consider. The State of Louisiana and Federal government both offer tax incentives to projects that are determined to contribute to the health and sustainability of the community through job creation, the preservation of historically significant landmarks, or creation of new opportunities for economic growth. This project offered us the opportunity to support our community on all three fronts, so we reached out to the folks we knew who could help us understand what meaningful support of our future neighbors would look like, and how to navigate the nuances of tax incentives through a collaborative partnership with the issuing agencies.
Here's a little behind-the-scenes peek at how we got to where we are today. I'm very grateful to all these people and organizations for helping us ensure this project is a success.
Though our partnership with Richard Roth, and the Roth Law Firm, which specializes in tax credit development projects, we were able to better understand the benefits but also the restrictions of doing a tax credit project. Another important relationship was that of Tony Gelderman who together with Richard and myself spent many hours navigating all that I was trying to accomplish for Fidelity, our associates, and the community. These conversations resulted in introductions to Peter Trapolin and Gene Guidry of Trapolin Peer Architects. Trapolin Peer has lent their expertise to several significant historic tax credit projects in New Orleans; the firm was extremely helpful with the planning and negotiations with the State of LA and National Parks service around what is and isn't acceptable from an architectural standpoint when one does a project of this magnitude.
As a community bank, Fidelity believes in supporting other entities working to serve our shared constituents. GNO, Inc, a regional economic development alliance, is one such entity. We've been long standing supporters of them in their mission "to create a region where our children and grandchildren can live and prosper" and are familiar with their holistic approach to helping companies move jobs to New Orleans. Also providing an assist was the Downtown Development District. Combined, their input helped us understand the broader economic and historic redevelopment goals within the community, and to identify areas of overlap with the goals of our project.
Danielle Del Sol, Executive Director at the Preservation Resource Center, was also consulted. She helped the team think through the impact our choices would have on our neighborhood's landscape and façade and provided us with an appreciation of the constraints that accompany the privilege of redeveloping a property with historic significance.
Alison Saunders at the state's Office Of Cultural Development Division of Historic Preservation had answers to art and architecture questions I hadn't even thought to ask: did you know that when it comes to historic redevelopment, what's inside the building (even down to the paneling materials!) is as important as preserving the skyline? (I didn't.)
At Fidelity, we aim to make business decisions that benefit the greater community as well as our bank. We always seek stakeholder input—if you bank with us, you've probably been invited to give us feedback in one form or another—and given the large footprint of this project, we sought community input from the outset. One important source of came from City Councilmember Jay Banks. As the Representative for New Orleans' District B, Councilmember Banks is a stakeholder in this project in a professional capacity, yes, but he's also a stakeholder as a lifelong neighbor who wants to see the neighborhood and its people thrive.
Councilmember Banks has lived through aesthetic, cultural, and economic changes in the area, some of which were impacted by past occupants of 353 Carondelet Street. We're lucky to have benefited from his perspective as a resident and member of our community and proud to have earned his support.
From the earliest stages of this project, I was reminded that one major responsibility I have as CEO is to look at the folks who are seated in my boardroom (including myself), and to be aware of our strengths and weaknesses as a team and as individuals. But that's just one piece of the puzzle. It's just as important to be able to see what's missing altogether: who should be part of this conversation but isn't? What are the unknown unknowns? Who can help us see a more complete picture? The people in the room might all be the best at what they do, but are they the right people or the only people who should be part of the conversation?
In my day-to-day life as a manager, the missing voices are not always as obvious as the need for historic restoration expertise was here. But the less obvious it is, the more important it is for me to be intentional about consulting people who bring different experiences and skills to the table. I challenge myself and my team to be mindful of this every day because I believe it is essential to setting us up for success; perhaps it's a challenge that could help you, too.