View all posts
Let's Focus on Gratitude
12/28/2021
By: Chris Ferris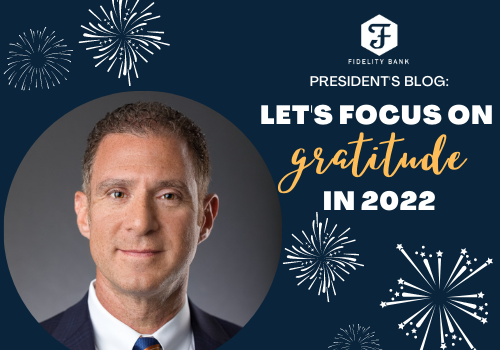 Dear Fidelity Family,
I'm writing this year-end letter to all of you: employees, neighbors, clients, vendors—every one of you. In addition to updates on the past year, this letter is also an invitation to contribute to a special culture initiative I'm launching, inspired by our branch bankers and other customer-facing team members. I hope you'll take the time to read about it and contribute to its success.
Once again, 2021 proved to be another year of challenges and opportunities. The resurgence of the coronavirus delta variant strained medical systems, supply chains, and in-progress "return to work" plans. Locally our Bank and associates endured the additional devastation of Hurricane Ida. As a company we strived to live our mission of being HERE FOR GOOD by supporting those in need.
Our institution is healthy, thriving, and engaged in our community, despite challenging global and local conditions. Our incredible team of bankers never lost focus on our mission. Their stellar work is reflected in our financial performance from this year: our total assets grew by $93.5 million, and our capital increased by $5M. In 2021, we distributed 1,361 additional PPP loans to businesses within our community. Each of these loans provided small businesses with hope as well as much-needed funding during a challenging time, while protecting local jobs.
Fidelity Bank continues to focus on growth. This past summer we broke ground on our 18th full service financial center. Located inside The Rink in New Orleans' historic Garden District, our newest branch is scheduled to open in early 2022. We are proud the Fidelity and NOLA Lending family also continues to grow. Our Human Resources team recruited, hired, and onboarded 85 new associates. (If you're a new hire, welcome! We're glad you're here!)
We continue to focus on showcasing our mission of being HERE FOR GOOD by doing good in the community. Collectively, the Bank donated close to $600k to local non-profits. We have, and will continue, to give back to our community in other meaningful ways as well: offering organizations the use of our facilities, access to human capital and educational programming, and helping boost their messages on our social media platforms.
As I move toward 2022, I've had time to reflect. I am so proud of the Fidelity Bank and NOLA Lending team. I am grateful to be a part of something so very special. I recognize my role as the leader of the organization is to cultivate, support, and nurture the people who make this organization so special. This brings me to the aforementioned special project.
These past two years have been demanding and exhausting. I believe it is normal to have an increased sense of awareness, and to question where you are and where you aspire to be. If you're feeling stuck and unsure about what your next move should be, don't be discouraged. We have resources to help you fulfill your career ambitions.
We all deserve to end 2021 and start 2022 feeling good about ourselves, our coworkers, and our community. I've read
gratitude is good for mental health
, and while I'm not an expert on the subject, I know expressing gratitude makes me feel great. Plus, who doesn't love a compliment? I would like our corporate culture to focus on gratitude in 2022.
I'm inviting you to send compliments, positive feedback about our extraordinary team to
[email protected]
.
I want to hear about all the good experiences you've had with our Bank and the Fidelity and NOLA Lending Family. I'm looking for the big things and the little things that made your day. For example, I'd love to hear how our amazing small business team did a great job helping you with your PPP loan forgiveness. Or how much it meant to you that we contributed to your non-profit's important work. Does one of your coworkers remember everyone's birthday? Tell me how thoughtful they are. Were you impressed with the cleanliness and safety protocols at one of our branches? Grateful that, during the height of the pandemic, one of our NOLA Lenders was extremely helpful and responsive, enabling you to secure your first home? Even if you're not sure who to thank, I want to hear about it. I look forward to sharing positive feedback with the team.
Team members are also encouraged to use our reward and recognition program Kazoo. Make another associate's day by sending them some points for making your day better. We always encourage feedback as we realize it makes us better, which is why we welcome reviews on Google My Business and our review pages.
Everyone deserves to know how much their work matters. And while I was inspired by my year-end recap to start this project, I see no reason to set an end date. Thus, whenever you're reading this, submit your compliment or expression of gratitude to
[email protected]
(if you'd like us to keep your message anonymous, we will).
These past two years have been full of challenges; let's fill the next two (and more!) with gratitude.
Chris Ferris
President & CEO