View all posts
Fidelity Bank is Here for You and HERE FOR GOOD
03/14/2023
By: Chris Ferris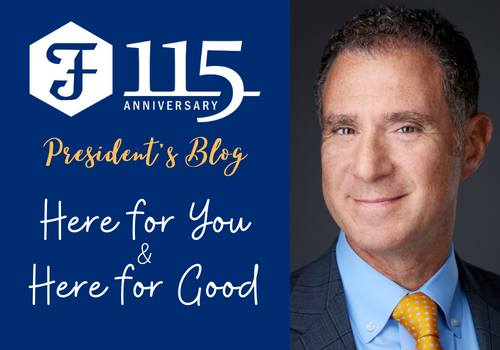 "Americans can rest assured that our banking system is safe. Your deposits are safe. Let me also assure you we will not stop at this. We'll do whatever is needed," President Joe Biden.
On Friday, March 10th, the nation's 16th largest bank, Silicon Valley Bank (SVB) experienced a bank failure. The Bank specialized in servicing the tech industry and tech-focused startups. The California headquartered institution experienced a run-on deposits, and state regulators seized the bank and made the Federal Deposit Insurance Corporation (FDIC) its receiver in an effort to stop the bleeding. In addition, the New York based institution, Signature Bank failed on Sunday. Signature was a commercial bank with offices in multi-states, with concentrations in the commercial real estate and legal industries. Also, it is important to note that as of September 2022, almost a quarter of Signature Bank's deposits came from the cryptocurrency sector.
Why did these Banks fail?
Silicon Valley Bank was unique by servicing almost exclusively the technology industry and venture capital backed companies. This sector has been hit hard this past year due to the downturn in tech stocks and a rapid increase in interest rates to help the nation combat inflation. Bonds that the bank has bought over the past years are typically safe, but the value of the investments fell because they paid lower interest rates than what a bond would pay today in the higher rate environment.
On Friday, Signature Bank customers were alarmed by the collapse of Silicon Valley Bank and withdrew more than $10 billion in deposits. That run on deposits led to the failure. Once again, regulators announced Signature Bank was being taken over to protect its depositors and the stability of the banking system. According to a report by CNBC, Barney Frank, a Board Member of Signature Bank, and former U.S. Representative stated, "We had no indication of problems until we got a deposit run late Friday, which was purely contagion from SVB."
This recent news may have our Fidelity Bank clients questioning if their deposits are safe.
It is important to note that in a joint statement between the U.S. Treasury Department and bank regulators they announced all the depositors of Signature Bank and Silicon Valley Bank will be made whole, and "no losses will be borne by the taxpayer." Experts do not believe these recent failures will spread to the broader banking sector. The biggest risk to the industry is panic caused by depositors withdrawing large sums.
Fidelity Bank is one of the strongest, and well-capitalized institutions in the region. Our capital strength is well above what is required by federal regulation. For 115 years, we have made decisions that support our core value of longevity. We are proud to be a community bank with a well-diversified portfolio meeting the unique needs of our community. Fidelity Bank is committed to being here for you and HERE FOR GOOD, and our financial decisions in good times and bad times are made for the long haul.
Independent Community Bankers of America (ICBA) President and CEO Rebeca Romero Rainey stated "ICBA encourages consumers and small businesses to better understand that not all banks are created equal. In stark contrast to the nation's largest banks, community banks operate under an entirely different business model—one that's based locally, and is relationship focused."
I assure you the management team at Fidelity Bank will continue to monitor the financial markets. While we do not expect direct impact from the recent failures, we understand that our clients may have specific concerns, which is why we have encouraged our experienced bankers to reach out. Fidelity Bank was a leader in assisting clients during the pandemic as a trusted PPP loan provider. We made early decisions to support our client base in the face of an unknown outcome. We are prepared to weather any financial situations, and I will support decisions that are in the best interest of our clients and Fidelity Bank. If you have additional questions about the recent occurrences, please reach out to me at
[email protected]

.
FDIC Insurance Protects Bank Customers
In the FDIC's 88-year history, no one has ever lost a penny of an insured deposit.
The FDIC is completely funded by the banking industry and insures up to $250,000 per depositor per bank.
The FDIC has a $100 billion line of credit with the U.S. Treasury, which would, by law, have to be repaid by the banking industry if ever used.
Chris Ferris
President and Chief Executive Officer
Fidelity Bank & NOLA Lending