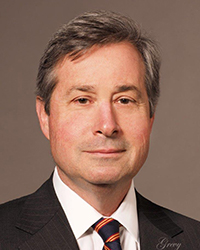 J. Luis Banos, Jr
Director
Career Summary
An entrepreneurial energy executive at the nexus of technology applications and capital markets, with proven leadership skills in strategic initiatives, business development, and consulting. Having successfully launched more than four companies working with private equity and major joint venture partners, I have extensive industry contacts and context, which provide a unique foundation to manage the current convergence of environmental, energy, technology and governance opportunities.
Career Highlights
In my 20-year relationship with Yorktown Partners to present, I served as Executive Chairman and CEO for a number of companies within the Yorktown portfolio. My first company, Online Resource Exchange, Inc. was founded in 1984 as a data/technology/consulting company to assist majors and independents with software solutions for portfolio management of upstream assets; and, as an online market for the buying ad selling of oil and gas (then multi billion-dollar annual market). Clients included major and independent energy companies, their investment banks (Goldman Sachs) and consulting firms such as Capgemini - Sogeti.
It was funded in 2002 by Yorktown Partners, at a 6-x multiple as a platform for an acquisition and development company. Under my leadership, the company later merged at a 2x valuation into ORX Exploration, a technology company, utilizing the latest advances in 3D technologies to create a world-class prospect portfolio (2.3 TCFE Pmean) onshore South Louisiana. Within the Yorktown portfolio, I developed both domestic and international opportunities, in locales spanning the US, Alaska, UK and Libya including acquisitions, divestitures and joint venture relationships with Texaco, Shell, ORYX, Exxon, Repsol, OXY, EOG Fieldwood Energy and Stone Energy, among others. I also have experience with family offices in a variety of energy and green energy projects, the most notable being a project in Spain, SunGem, designed to transform olive harvest waste into energy through co-generation.
My career began in 1979 as a corporate attorney with the Ingram Corporation, one of the largest, U.S. privately held, fully integrated, global energy companies at the time. I was selected to join the leadership team working with senior executives in various subsidiaries for the company. Major accomplishments there included: sourcing oil feed stock for two refineries; negotiating a major contract for the construction of five US built, crude oil and product tankers; negotiating lease and transaction contracts for exploration initiatives; managing the group's Washington DC office, and serving as the Energy Regulatory Coordinator for the Group's subsidiaries that included exploration, refining, shipping and a global trading subsidiary.
In addition to my professional roles, I have devoted considerable time to community boards and non-profit organizations. Since 2005 I have served as a Director of Fidelity Bank in New Orleans and I am currently on the Audit, Compensation, Strategic Planning and Governance Committees. I served as the Honorary Consul of Spain from 2012 to 2019 culminating in the coordination of the Royal Visit of King Felipe and Queen Letizia, as part of the New Orleans Tri-centennial Celebration in 2018. Currently I am consulting with Stemnola, a non-profit created to engage and inspire students in science, technology math and engineering. My education includes a Juris Doctor degree from Tulane University, and Bachelor of Arts, cum laude, from St. Louis University in Latin American Studies and Literature.