View all posts
Fidelity Bank Launches Innovative Summer Internship Program for College and High School Students
06/08/2022
By: Fidelity Bank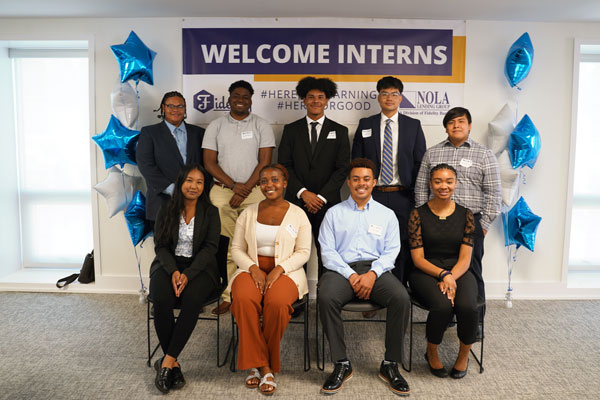 Fidelity Bank Launches Innovative Summer Internship Program for College and High School Students
First of its kind Program Partners with St. Augustine High School, The Posse Foundation and Corporate Internship Leadership Institute
(New Orleans) – Fidelity Bank has launched an innovative, inaugural summer internship program in coordination with St. Augustine High School, The Posse Foundation and Corporate Internship Leadership Program. The new internship program offers 10 internship opportunities to high school and college students from across Louisiana.
This year's 10 paid internship spots have been filled with students working in various departments at Fidelity Bank including Information Technology (IT), Marketing, Human Resources, Finance, Retail Banking, Commercial Credit and Mortgage Loan Operations. The students will be provided the opportunity to learn about the banking industry, challenged with important work, and gain experience in the functional areas they will be working in during the summer.
"Being true to our company mission of 'Here for Good' and aligning with our core value of community, Fidelity Bank and NOLA Lending are giving back by offering qualified students the opportunity to work during their summer break." said Bryan Bode, Senior Vice President, Director of Human Resources at Fidelity.
Fidelity Bank plans to continue the internship program on an annual basis moving forward.
"One of my goals for the Fidelity Bank internship program is to show young people that a career in banking is rewarding," said Fidelity Bank CEO and President Chris Ferris. "There are so many different skill sets needed to make a bank run effectively. There is a place for those who are analytical, relationship focused, driven by data or creative and that's what we hope to instill in these students."

About Fidelity Bank
Founded in 1908, Fidelity Bank is an $1 billion in assets mutual financial institution chartered by the state of Louisiana. Fidelity Bank provides a full array of banking services, with high integrity and personalized service to communities throughout Southeast Louisiana. Fidelity Bank's mission is HERE FOR GOOD. Visit Fidelity Bank or www.fidelitybank.com.


Media Contact:
Clark Castle
504-909-9985
[email protected]
Steve Schulkens
504-401-6990
[email protected]