View all posts
Baton Rouge community banks seeing little impact from financial institution failures
03/22/2023
By: Holly Duchmann for Greater Baton Rouge Business Report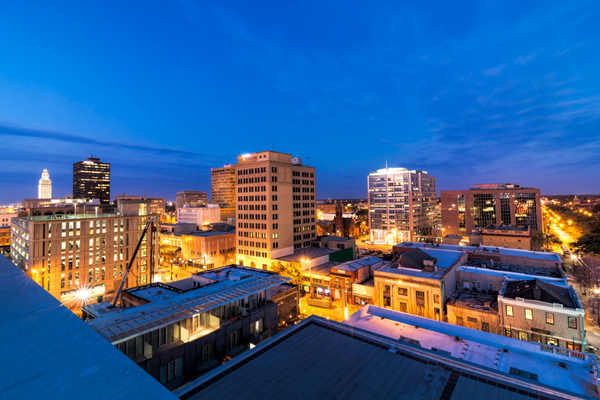 Baton Rouge bank leaders say they've seen little negative impact regionally as fear continues to dominate the larger national banking industry.
Fidelity Bank and NOLA Lending CEO and President Chris Ferris and b1Bank CEO Jude Melville both say there has been a slight increase in deposits made to their two institutions since Silicon Valley Bank collapsed a week and a half ago, though neither executive would estimate the amount of the increase. Mostly, community banks have been fielding questions from clients to help them understand the difference between specialized banking institutions like Silicon Valley Bank and the community banks that are based in Baton Rouge.
"As an industry, especially locally, we've been communicating with clients and communities we serve so we can help them understand the difference between banks at risk versus the banks here in our region," Ferris says, noting that Fidelity has mostly fielded questions regarding FDIC coverage. "There is a significant difference in their operating strategies and risk profile compared to our regional institutions in Louisiana. We're helping clients understand what a healthy bank looks like."
Melville sees the stability of community banks as an example of the importance of relationship-based banking and says most of the fears surrounding the banking industry have been inflamed by the 24-hour news cycle and social media.
"Our bankers have already instilled a certain solidity and confidence with our clients," Melville says. "Community banks tend to be more diverse in risk exposures because we try not to have concentrations or create investment portfolios that are impacted by changes in rates."
The Federal Reserve extended its yearlong fight against high inflation this afternoon by raising its key interest rate by a quarter-point despite concerns that higher borrowing rates could worsen the turmoil that has gripped the banking system, The Associated Press reports.
"The U.S. banking system is sound and resilient," the Fed said in a statement released this afternoon.
At the same time, the Fed warns that the financial upheaval stemming from the collapse of two major banks is "likely to result in tighter credit conditions" and "weigh on economic activity, hiring and inflation."
The central bank also signaled that it's likely nearing the end of its aggressive streak of rate hikes. In its statement, the Fed removed language saying it would keep raising rates at upcoming meetings. The statement now says "some additional policy firming may be appropriate," a weaker commitment to future hikes.
Looking forward, Ferris and Melville think that a temporary universal guarantee on all bank deposits—beyond the FDIC's current $250,000 threshold—could help stabilize the industry and ease investor fears.
"A temporary measure may be appropriate but it would not be realistic to have a permanent protection," Melville says, noting he'd like to see a more indexed approach to the insurance with strategic updates made to the FDIC limits with consideration to inflation rates.
"One thing a lot of people don't realize is it's not the FDIC that pays for the insurance, it's the banks—we pay for the fund," Melville says. "When a bank fails, it's ultimately other banks that pick up the tab. Even with higher (deposit) limits, we're still on the hook for doing the right thing." Gary Littlefield, market president of Gulf Coast Bank and Trust; and Ginger Laurent, CEO of the Louisiana Bankers Association; did not respond to requests for comment before this afternoon's deadline.