View all posts
Fidelity Bank and NOLA Lending Group are 2023 Reader Ranking winners
06/30/2023
By: Lance Traweek of New Orleans CityBusiness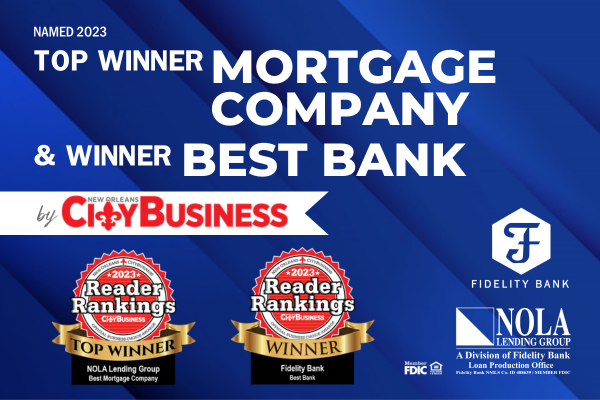 Announcing the 2023 Reader Rankings
The votes have been cast and the results are in from CityBusiness readers. Businesses have been deemed the best of the best in the New Orleans area.
The seventh annual Reader Rankings gives a glance at the companies and services that CityBusiness readers have rated highly across a wide range of categories. Our intention is that this provides the opportunity to select the services that can aid you running your business more efficiently.
CityBusiness' 2023 Reader Rankings survey prompted responses from 3,568 business professionals from across the New Orleans area. Over 17,302 votes were cast. The survey included a nomination round, followed by a voting period that generated three winners in each subcategory. One business was ranked as the top winner.
Through these rankings, we hope to keep our finger on the pulse of our readership.
We appreciate our readers' engagement by taking the time to cast their votes for the ones which they feel best serve the local marketplace.
Please consider participating in next year's survey to help us find the services that can help your business be the best it can be.
FINANCE/INVESTMENTS & INSURANCE
Best Bank: WINNER Fidelity Bank
Best Mortgage Company: TOP WINNER NOLA Lending Group