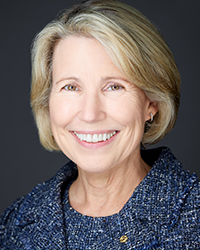 Katie Crosby
Chairman of the Board
Industry Expertise
The first female director in Fidelity's history, Crosby is the great-granddaughter of Allain C. Andry, Sr., one of the original founders of Fidelity Bank in 1908.
Crosby was named chairman of the board in August 2010 and possesses broad knowledge in various aspects of the banking industry, particularly financial institution management.
New Orleans CityBusiness named Crosby one of their "Women of the Year" in 2006 and 2013 and presented her with the "Business Money Makers" award in 2011.
In 2011 New Orleans Magazine recognized Crosby as one of its "10 Top Female Achievers" and the Young Leadership Council (YLC) recognized her with the "Role Model" award.
In 2019, Crosby was selected as the Junior League of New Orleans' "Sustainer of the Year".
In 2019, Crosby joined the Board of the New Orleans Branch of the Atlanta Federal Reserve Bank.
Memberships
Board Member of New Orleans Area Habitat for Humanity (NOAHH) (2009 - 2016)
Board Vice Chair LCMC Health (2018-2020)
Board Member of Children's Hospital N.O.
Board Chair WYES-TV (2017-2019)
Board Vice Chair Poydras Home (2017-2018)
Graduate of New Orleans Regional Leadership Institute (2001)
President Junior League of New Orleans (2000 - 2001)
Board Member of the Greater New Orleans Foundation