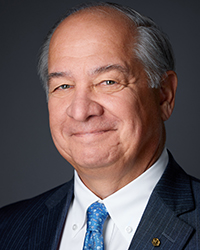 Gerry Barousse, Jr
Director
Industry Expertise
Gerard "Gerry" Barousse, Jr. has been a Director at Fidelity Bank since 2014.
Mr. Barousse is President of and a principal in Monarch Real Estate Advisors, Inc. (Monarch), a real estate investment, development, management and financial services firm formed in 1991 by Mr. Barousse and located in New Orleans, Louisiana.
Mr. Barousse is also President of RCB Developers, a real estate development firm specializing in renovation of historic buildings in the New Orleans area, having completed 14 such projects encompassing 435 condominium/apartment units over the past twenty years.
Mr. Barousse has significant experience in the commercial real estate finance industry, having spent over six years prior to Monarch as a commercial real estate lender at Hibernia National Bank, in charge of a portfolio in excess of $125 million.
Founder - Bayou District Foundation. A Louisiana non-profit leading holistic redevelopment of the former Saint Bernard housing complex into Columbia Parc at the Bayou District - a 685 unit mixed income residential community "complete with" cradle to college education, health and other support services.
Founder / Board Chair - Educate New Orleans - Early Childhood Education school with 168 students from 0 to 5 years old.
Memberships
Former member of Urban Land Institute
Former Vice President of Oak Tree Capital and Landmark Land Co., Inc.
Former member of American Bankers Association
Former member of Real Estate Capital Recovery Association
Former Executive Committee Member and Chapter Chair of Louisiana Chapter of the Young Presidents Organization and World Presidents Organization
Metarie Park Country Day School Board Trustee (2013-2021)
Metarie Park Country Day School Board Chair (2019-2020)