View all posts
2020 Year in Review Part I
12/30/2020
By: Chris Ferris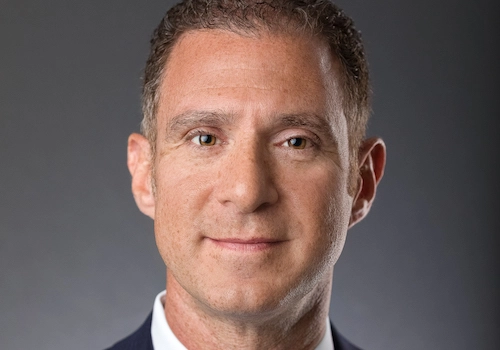 As 2020 draws to a close, now feels like a good time to reach out to my community and share a bit of what the year felt like for me, as CEO of Fidelity Bank. 2020 was a year when terms like "unprecedented," "disruption," "social distance," "mask up," and "pivot" went from rarely heard to constant refrains. Another phrase we heard often was "changing rapidly" and yes, even as I write this, I wonder what's next and how much of it will be out of date when published on our site.
As I look back on a year filled with disorienting shocks and surprises, a personal anecdote comes to mind I feel accurately represents my experience living through 2020. In mid-June, my family and I decided to go to Florida for a few days to take a much-needed break. While there, I took the opportunity to play a few rounds of golf, despite the weather; in Florida, in June, it was over 90 degrees. As I headed off to play the 16th hole under the hot Florida sun, a giant black bear crossed the fairway in front of me.
"Well that's unexpected," I thought, as I took in this "unprecedented" sight. "Am I really seeing this? I guess even the wildlife is confused and disoriented by the past few months."
There has been a lot to contend with this year. So much in fact, it can't fit into only one blog entry, despite the fact I'm not writing this with the intent of being an exhaustive or up-to-the-minute source of information on the bank's response to 2020's social, psychological, and economic challenges. It is, rather, an account of my experiences, which I hope will be interesting and maybe even helpful to those wondering what it was like to lead a financial institution through such a turbulent time, and to leaders interested in our approach to the rough waters we've all been forced to endure. So, without further ado, here we go!
A 2020 Retrospective:
January: We're off to a great start here in Louisiana: the bank started the year in good place, poised for growth and excited about our new office!
In Wuhan, China, things are not as good. On December 31st, Chinese officials confirmed an alarming number of cases of pneumonia from an unknown cause. By January 7th, the cause had been identified as a new coronavirus1.
From my desk in New Orleans I was aware of this news and mindful of its potential to impact the markets, but there was no real clarity on the scope of the crisis or the threat it posed to the people in our community, located as we are, on the other side of the world. By the end of the month, the World Health Organization had declared a global health emergency, but the effects were still not being felt here in the Gulf South.
February: Despite the WHO's declaration, things were pretty normal in New Orleans. For those of you who don't live here, that means the weeks of city-wide parades and celebrations that are the heart of the city's Mardi Gras culture went on as scheduled. Later, people would point fingers about the resulting consequences of these mass gatherings, but at the time the severity of the threat was not clear. Mardi Gras festivities were in full swing by the time the disease was officially named COVID-19 on February 11th.
Toward the end of the month, I went to visit my parents in Atlanta. While we'd heard of some COVID-19 cases in Seattle, it never occurred to me this would be the last time we'd be together in 2020.
March: March was a month that shocked us all. In the future, I imagine books will be written about what unfolded in March of 2020, here in the United States, and around the world. In this update however, I will confine the story to my own experiences.
It was March when we started to see COVID-19 impact our community in serious and terrifying ways. For a fleeting moment I anticipated our team addressing the challenge through the implementation of new hygiene protocols at our branches, but it was soon clear we had a much bigger issue on our hands, one that would require complex problem solving to account for all the moving parts.
On March 13th, President Trump declared a national state of emergency. Though the declaration may have scared people, it released resources that could be deployed to take aggressive measure to help people in need. At the time, I viewed this as a prudent preemptive measure that mobilized resources—I thought of it as being similar to the way that, here in Louisiana, we'll declare a state of emergency when we know a hurricane is coming but before it makes landfall—before the full extent of the damage is known. We make that declaration preemptively to protect and provide for as many people as possible.
March 13th was also the day Governor Edwards closed schools. This was not entirely unexpected; earlier in the day I'd actually addressed that possibility in a video we shared on our social media accounts. In hindsight, that video reveals my still rather rosy outlook on what turned out to be a very rocky road; yet I also want to point out there are parts of the video, very important parts, that have (so far) remained true. Our bank has continued to serve its customers despite the logistical challenges. Our solvency and strength have remained strong; in this area, at the time of this writing, our ability to endure 2020's marathon of crises has not yet been stretched or tested. Additionally, considering the prospect of closing schools, I said then that as a community-oriented institution, we would do our best to find creative ways to support our associates, customers, and the larger community for as long as necessary.
To ensure we could deliver on that promise I had a meeting that same day with my business continuity team. This turned out to be the first of many 2020 meetings I'd have with them this year; in fact, by October, I'd had more meetings with them than I'd had with my management team (we'll see what the final numbers are on December 31st!).
The weekend of March 14th and 15th marked a turning point in the crisis, for us as a nation, and for me personally in terms of understanding the reality of what was ahead. On Saturday, the impact of schools closing dominated the conversation about COVID-19; neither I, nor those around me, had a real understanding of the health implications. Accordingly, on Saturday night my wife and I proceeded with our date night plans to celebrate our 16th wedding anniversary. Because it was the weekend, the markets were closed, so from a business perspective my team at the bank anticipated having a moment to catch our collective breath as we considered the financial implications of what had happened over the past few days and what our next steps would be.
By Sunday, however, I was starting to appreciate the full scope of the impending changes to our daily lives as individuals, and to our operations as a business. At 3:00p.m. we learned city services were going to be limited. This was both a signal as to the severity of the virus and its impact, as well as a practical challenge as it would impact some of the bank's operations.
At this point in the day, I decided it was time to get some exercise—by now I was thinking about my own health as well as what was next for the bank and the community. I jumped on my bike, and while I had brought my phone along, I had been focused on my workout rather than the sporadic pings I was receiving. Until 4:12p.m.
At 4:12, my phone exploded with notifications and messages with the urgent and critical news of the Fed's announcement of quantitative easing and the slashing of interest rates to near zero.
I have reflected on this moment often in the months that followed. It was the first time in my lifetime when my community, when the national community, when the global community were all facing the 1-2 punch of a public health crisis and an economic crisis at the same time. My experiences as both a banker and as a human have taught me that among the things that people worry most about, their health and their finances are usually at the top of the list. This makes sense of course, because without our health we have nothing, and when there's a threat to our ability to make a living we become anxious and upset.
My new understanding of the tangible and psychological impacts I was now certain would impact my community in excruciating ways was accompanied by the clarity that urgent action was required immediately. I went home a made a list of 10 things I needed to do before Monday and had to make some decisions about how to get them done.
It was the weekend, and I knew my colleagues were coping with the pandemic's impact on their own lives, so I had to weigh my desire to respect my colleagues' time away from work against the need to have them involved in the critical decisions we'd need to make within the next 24 hours. It was clear we had a responsibility to open on Monday, but how? What did we need to get done to start a new week in a new reality?
I didn't sleep at all that night, but not because I was afraid. I stayed up considering our options and their potential impacts on our employees and our clients. I knew as a company, our immediate next moves would define our response to this crisis, and I needed to ensure we got it right in both in tone and in action.
High on our to-do list was prepping our associates. This included reassuring them that, as an institution we have the liquidity and the capital to withstand this crisis. The events of the past few days had not weakened us or rendered us insolvent. It also included preparing them to convey this same message to panicking clients with memories of 2008. Additionally, we provided customer-facing associates with talking points they could use to address questions about quantitative easing and helped them prepare for the reactions they might encounter.
Also, near the top of the list was making physical changes to our branches so we could keep our associates and clients safe. Social distancing, hand sanitizer, and strict cleaning protocols have since become so standard it's incredible to think it was only a few months ago we had to puzzle through the logistics of implementing these changes. We considered everything from occupancy limits, how much we could accomplish in a drive-through setting, how we could make adjustments to each branch's physical setup. On this, and on so many 2020-related questions, we actively sought input and feedback from our associates as to whether our ideas addressed their safety concerns and made them feel comfortable doing the critical work required to support both business and personal banking clients through such a monumental crisis. This dialogue was an important signal to our associates, who were deemed as essential workers: we took their health and safety seriously. It also served as signal to our customers of the same.
At this point in the story, I want to take a moment to note I didn't have any more information on what was ahead than anyone else. It was around this time the word "unprecedented" began to be used with nauseating frequency, and frankly, nothing in my work history or list of professional accomplishments gave me any magic insight into the questions that were on everyone's mind. I had no answers about how long this would last, how many people would die, how the disease was spread, what vitamins to take to keep you safe. I also had no crystal ball to tell me if, when, and how, the government would act on questions of financial mitigation or on health and safety.
Moreover, I was keenly aware everyone on my team was in the same boat as me. We were all in the unavoidable position of having to make big, impactful decisions with little or no information. This is a difficult spot nobody likes to be in, but waiting was a luxury we did not have. In the absence of useful data, I fell back on what I did know:
As long as we prioritized aligning the mission and values of the company in our decision-making process, and we put the well-being and concerns of our associates and our clients first, we would avoid making any decisions we would truly regret later.
I needed my team to feel empowered to make decisions without fear they'd be penalized for the outcomes down the road. I told them, "I know you're working with what you've got," and if we adhered to the cornerstones of our mission and values as a company, we could make mistakes without fear of major future regrets.
On Monday, March 16th I had an 8:30a.m. meeting with the business continuity team to update them on what we'd put into motion over the weekend. Many of them had already made headway on my to-do list from Sunday and provided updates on where we were with such items as employee training and the implementation of social distance and increased sterilization measures in our branches and offices.
As I've already mentioned, by the time we sat down for this meeting, it was clear to me that immediate action on behalf of our clients was essential. I was very clear, both personally and in my communication with my team, there would be no "wait and see" from Fidelity. To the extent we were able to offer support of any kind to those in our community, we would be proactive and inclusive in our efforts. Some specific things we did immediately included:
Suspending late fees
Waiving early withdrawal fees on CDs
Suspending credit reporting on loans
Offering 90-day loan payment deferrals for anyone who needed assistance
Reactivating our employee assistance fund to provide financial relief and mental health services to those in our own family who were struggling
Anticipating the impact the virus would have on the hospitality industry, we made an immediate donation to the Hospitality Cares Foundation
Forming a "Lessons Learned" task force to ensure we avoided making the same mistakes twice, and to identify what aspects of our COVID-19 crisis response efforts would worthy of carrying forward into daily operations
It's worth noting while the decision to give generously as much as we were able to our community was easy, it was more difficult to decide on how to give. Ultimately, this combination seemed to balance the needs of the larger community with the needs of those in our own Fidelity family who were struggling. Moreover, while giving generously is part of the Fidelity culture, it is one of my responsibilities as CEO to balance our obligation to the community with our responsibilities as a bank. It is an ethical imperative to be financially safe and sound and completely solvent ALWAYS, 100% of the time. To that end, I had a conversation with our CFO to discuss the impacts of the markets on our bottom line to ensure I was fulfilling my duty as CEO to guard the health of the institution as we moved forward through the crisis.
As the week went on, we had to make many of the same decisions other organizations were facing: Who needed to be in the office? Who could work from home? How did we address the fact people who needed to come in might feel afraid? For me personally, this last one was particularly challenging and led to some heartbreaking conversations. When people are afraid, it's very hard to tell them while some of their colleagues are able to stay safe at home, they are required to interact with the public.
I have noted previously everyone in the Fidelity family rose to meet the occasion, surpassing even my hopes for how we'd handle the myriad challenges of remaining compliant with regard to laws around client confidentiality, while also continuing to provide service to our clientele. Nevertheless, I'd like to tip my hat to the whole team once more; I'm sure many Fidelity clients who are reading this recall getting emails or phone calls from their associates and loan officers giving them updates on what to expect during that week and the chaotic weeks which followed.
When the CARES Act went into effect on March 27th, we got ready to start processing PPP loans. By "got ready", I mean the first thing we had to do was try and make sense of, and build some order around, a complicated and evolving process. I felt at the time, despite the complexity of the CARES Act, it had great potential to provide help to those who needed it. I wanted our community to feel comfortable coming to us with their questions. I made it my personal mission to become an expert on all government aid available to small businesses. This included PPP, as well as programs like the Main Street Lending Program and the Economic Injury and Disaster Loan program (EIDL) which, though not fulfilled by banks, interacted with programs like PPP.
Unfortunately, on the eve of the PPP launch, there were still major gaps in the guidelines around implementation and fulfillment. We now had a new decision to make: to proceed, despite the risks, or to hold off and not process loans. I was adamant "wait and see" was off the table. Despite understandable objections from members of my team, I made it clear while mistakes were inevitable, we would not be judged by those mistakes. We would, however, be judged on our failure to deliver help to our hurting community, and the enthusiasm and commitment we brought to servicing all businesses (not just existing clients) during such a disorienting and scary time. I believe my assurance to the team that their jobs would not be in jeopardy because of mistakes or uncertainties in the program was crucial to giving them the confidence to proceed. We moved forward at 12:01a.m. on April 3rd with an all-hands-on-deck strategy.
So, readers, here we are at the beginning of April, with the whole team standing ready to manage the barrage of PPP related work headed our way. While we've only gotten as far as the start of Q2, I'm going to end the first part of this retrospective here—Q1 was very eventful, and I imagine even just reading about it you may want to take a break. That being said, the second part of my 2020 retrospective will pick up just as we get into the real PPP action. It's not exactly a cliff-hanger, but there's a lot of information I feel is important to share with you pertaining to April-December so I hope you'll read Part II as well. In the meantime, I welcome any feedback, questions, or comments you'd like to share, and I can be reached at [email protected].
To Be Continued…
[1] https://www.nbcnews.com/health/health-news/coronavirus-timeline-tracking-critical-moments-covid-19-n1154341