We like to brag on our clients and let others know about the good work they do!
Click the + signs below to learn more about our Community Partners, Small Business, Commercial and P.O.W.E.R. clients.
Community Partners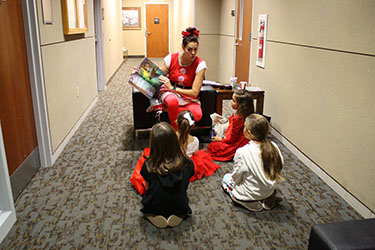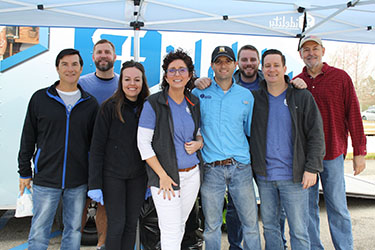 The Youth Service Bureau provides advocacy, counseling, education and intervention for children and families in St. Tammany and Washington Parishes, helping them reach their full potential. We are an umbrella agency of 5 programs:
Crossroads - delinquency intervention, helping youthful offenders choose a new direction and avoid future delinquent behavior. Participants complete court-ordered intervention & services to gain an understanding of the impact of juvenile crime on the community and themselves, and avoid future delinquent behavior.
CASA – Court Appointed Special Advocates - trained adult volunteers provide advocacy for children (newborn to 18th birthday) who have been abused and neglected, in order that they may live in safe and permanent homes, free from further abuse or neglect.
FINS – Families In Need of Services – intervention for children ages 10 through 17 who commit pre-delinquent offenses such as truancy, ungovernable behavior, or curfew violation. Results include improved family functioning, reduction in self-destructive behaviors, greater success in school.
Options - intervention in the destructive, self-defeating cycle of addiction by assisting children ages 12 to 17 who have used or abused drugs or alcohol and their families in the recovery process. Children learn to abstain from use of drugs or alcohol and develop positive coping skills
TASC – Truancy Assessment and Service Center - juvenile delinquency is reduced by addressing its primary predictor –truancy in kindergarten through 5th grade. Families are educated on policies and laws regarding school attendance and overcome familial, social, health, and other barriers to regular school attendance so that children can resume regular school attendance and advance to the next grade level, avoiding future law-breaking behaviors and involvement in the juvenile justice system.
In the most recent fiscal year, YSB served 1,891 children. For more information, to volunteer, or to make a donation, please visit www.ysbworks.com.
We are grateful for the support of Fidelity | NOLA Lending for our recent Breakfast with Santa in Covington. Through the generosity of our sponsors, children in our CASA And TASC programs enjoyed a delightful morning of crafts, train rides, a souvenir photo of their visit with Santa, and a delicious hot breakfast courtesy of Fidelity | NOLA Lending.
Small Business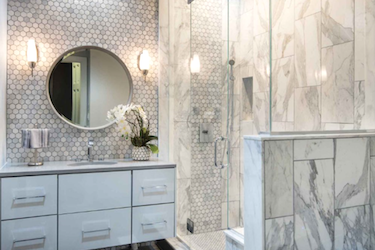 Standard Glass
Since 1915, Standard Glass has been a family-owned company that has set the standard for residential and commercial glasswork across the greater New Orleans Region. Through three generations of ownership, the La Borde family name has been synonymous with exceptional customer service, excellent workmanship, and an unyielding attention to detail.
When Standard Glass was looking to expand their operations through new product lines and increased efficiencies, their CPA recommended Shane Purvis in the Small Business Department at Fidelity Bank. Working together to understand their operation, opportunities, and needs, we were able to help the current ownership of Standard Glass obtain the equipment, expert technicians, and working capital that they needed to expand, all within a 2 week time-frame. During this time, they also identified needs that weren't being handled by their previous institution, and were able to assist with moving their operating account, payroll, ACH, and Remote Deposit Capture services.
With their advanced facilities, equipment, and well-trained staff, Standard Glass can deliver fast turn-around time and high-quality to individuals, builders, contractors, and more. Some of their capabilities include:
Design, Fabrication, and Installation
Same-Day Glass Cutting Services
Etching Services
Water Stain Removal
Clearshield Stain-Resistant Glass Treatment
Eco-friendly Products
In-House Polishing of Straight & Pattern-Shaped Glass up to 1" Thick
Whether you're designing your dream, frameless shower or a glass barrier for your staircase or patio, think Standard Glass.
To learn more, visit www.standardglassla.com or speak to Small Business Relationship Manager Shane Purvis.
Commercial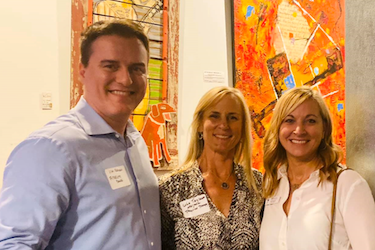 Magnolia Physical Therapy
Magnolia Physical Therapy, LLC is locally owned and our commitment to this city was grounded in our experience during Hurricane Katrina. Our doors had just opened one month before Katrina hit. The question in our minds at that point was not IF we would return to New Orleans to pick up where we left off, but WHEN. The community answered back with their support. Organizations like Fidelity mirror that support and because of this, Magnolia Physical Therapy has grown from a 1000 square foot facility with three employees to occupying over 13,000 square feet in Orleans and Jefferson parishes and employs over 60 people.
For almost 15 years, Magnolia Physical Therapy has had a vision to help as many people as possible and, until recently, we had never quantified "as many people as possible." Our goal now is to help 1,000,000 people become pain free so they can go live their lives. Currently we are a little over a quarter of the way there and we are determined to achieve this goal so our communities can flourish. We ensure residents can go to work pain free, kids can play sports pain free, and that access to conservative, evidence-based care is quick, that it is of the best quality and that it is in your neighborhood. In doing this, we can give back to the very communities that have supported us for more than a decade.
To help accomplish the goal mentioned above, Magnolia Physical Therapy has taken on a company-wide responsibility to educate our public about the benefits of physical therapy and more conservative treatments with the intention of helping our clients to minimize or eliminate addictive medications or potentially eliminate the need for expensive surgeries. Magnolia Physical Therapy was instrumental in lobbying for direct access to physical therapy care in 2016. The passing of this legislature allows the public to seek and receive physical therapy services without the costs of referrals or unnecessary testing. We also provide free educational screening events to organizations and companies across our city to assist in disseminating this message and to show them how to gain quicker access to care.
Magnolia Physical Therapy has several key organizations where we volunteer our time, talents, and money. We provide mentorship and support to the physical therapy students at LSU Health Sciences Center and Delgado Community College. We provide support and discounted services to the New Orleans Musicians' Clinic, whose mission it is to provide low cost healthcare to local musicians without health insurance. Most importantly, in 2019 alone, we provided nearly 1,000 hours of service in the forms of free massage, physical therapy screenings, or educational seminars across the city and have plans to increase this in the coming years.
FAST FACTS ABOUT MAGNOLIA PHYSICAL THERAPY:
5 Locations: Elmwood, Marigny, CBD, Uptown, Westbank
49 Full Time Employees
21 Part Time Employees
2019 AWARDS:
Top Places to Work (Times-Picayune)
Women-Owned Business of the Year (Jefferson Chamber)
Small Business of the Year (JEDCO)

For more information on Magnolia Physical Therapy, visit www.magnoliatherapyla.com
or speak with Commercial Lender Jim Schoen.
P.O.W.E.R.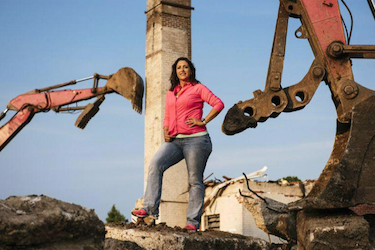 Simone Bruni, Owner – Demo Diva
Time in business: 13 years
Why did you start? I started to help the New Orleans community in the aftermath of Hurricane Katrina.
What is your biggest challenge? When I first started, My biggest challenge was earning the trust of contractors and customers to perform demolition, when I knew very little about demolition work.
What inspires you? Helping people inspires me. Making my city a better place inspires me.
What does POWER mean to you? The one value add that I have gotten out POWER, is the networking with amazing, inspirational women.
If you could do one thing besides your business, what would it be? The cross pollination from corporate to small business owners shows us that good business starts with good conversations. POWER provides that place for us to meet.