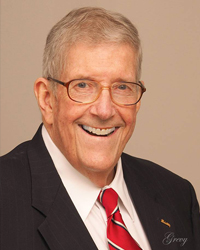 Michael Rapier Deceased 12/6/2020
Director
Industry Expertise
Michael J. Rapier, has been a Director at Fidelity Bank since 1996. He is the Chief Executive Officer of S. C. Minerals, Inc. In 1987 he founded Michael J. Rapier Investments, an investment holding company which operates six companies with interests in oil, gas and real estate investments, as well as portfolios of investment securities, government and municipal bonds.
Rapier is formerly the President and Chief Executive Officer of the National Bank of Commerce in Jefferson Parish. He is a former faculty member of the Louisiana State University School of Banking.
Rapier served as Rex, King of Carnival, in 2005. Following Hurricane Katrina, in 2006 he helped the carnival organization launch "Operation Pro Bono Publico" with initiatives targeting a specific need in our recovering city.
In the field of education in our region, Rapier served as Chairman of the Finance Committee for the Board of Trustees of Mary Baldwin College in Staunton, VA. He served as both the Chairman of the Finance and Endowment Committees and as Co-Chair of the Capital Campaign for the Board of Trustees of Loyola University in New Orleans for 8 years. He served as Chairman of the Board for 3 years at the Academy of the Sacred Heart and for 7 years served as Secretary/Treasurer for the Board of Trustees of De La Salle High School. He has served on the Tulane Athletic Fund Board of Directors.
Memberships
Former President's Council Member for Tulane University Business School
Former Chairman of the Economic Development Council for the Chamber of Commerce of New Orleans and served on the Chamber's Board for 10 years