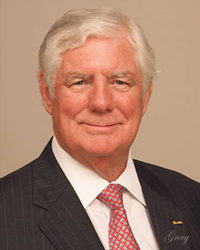 Stephen Hales
Director
Industry Expertise
Stephen W. Hales, M.D. has been a Director at Fidelity Bank since 2004, and is Vice-Chairman of the Board.
Dr. Hales is the founder and senior partner of Hales Pediatrics, and has practiced pediatrics in New Orleans since 1978.
He is a Clinical Associate Professor of Pediatrics at Tulane Medical School and LSU School of Medicine, where he has taught a course on doctor/patient relationships and medical ethics for first year students. Dr. Hales has served on the Board of Trustees of Children's Hospital since 1980, and chaired the board for four years.
Following Hurricane Katrina, he has supported educational reform in New Orleans as a founding Board member, Secretary and Vice-Chair of New Schools for New Orleans (NSNO). Founded in 2006, NSNO has played a major role in the reform of New Orleans' failed public school system, launching and supporting the high-quality open-admission charter schools now successfully educating over ninety per cent of New Orleans' public school children.
Memberships
Former Board Member of Metairie Park Country Day School
Former Board Member of the Louisiana Philharmonic Orchestra
Former Board Member of the Alliance of Not-for-Profit Hospitals