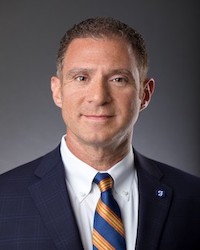 Chris Ferris
President and Chief Executive Officer
Since January 1st, 2018 Chris Ferris has led as President and CEO of Fidelity Bank and NOLA Lending Group. Prior to his appointment to Chief Executive Officer, Ferris served as the Bank's Chief Retail and Small Business and Operations Officer. Prior to joining the community bank, Ferris had extensive bank leadership experience at the large regional Truist, formerly BB&T.
Upon joining the Bank in 2014, Ferris proactively re-designed the client experience, creating new standards for client interaction and interdepartmentally delivering a consultative approach to identify client needs. His focus on simple, easy, and fast banking services that provide value has allowed the Bank to experience record growth.
Ferris is a 1997 graduate of the University of Georgia and has received Graduate School designations in Banking from the BB&T Banking School at Wake Forest University and Louisiana State University.
A proven leader, Ferris serves on the Board for Fidelity Bank, The Louisiana Bankers Association, the New Orleans Chamber of Commerce, New Orleans Area Habitat for Humanity, and the Financial Institution Services Corporation.
Fidelity Bank's mission is to be HERE FOR GOOD. Ferris supports that mission by being actively involved in the community.
Recognition
3-Time New Orleans City Business "Money Maker" Honoree in 2018, 2020, and in 2021.
Named to New Orleans City Business "Money Maker Hall of Fame" in 2021
Recipient of the 2021 ICON Award by New Orleans City Business
Selected as a New Orleans Magazine Kingfish in 2021.
Featured as a New Orleans Magazine "Face of Banking."
Honored as one of the most influential, involved, and inspiring New Orleans Executives in the inaugural BIZ Magazine "New Orleans 500" in 2021
Memberships
Board Member Louisiana Bankers Association
Board Member Greater New Orleans Chamber of Commerce
Board Member The New Orleans Area Habitat for Humanity
Graduate of Louisiana State University Graduate School of Banking
Graduate of BB&T Graduate Banking School
Board Member Financial Institution Service Corporation