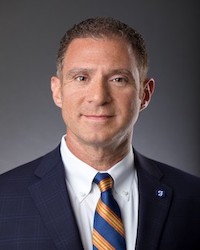 Chris Ferris
President and Chief Executive Officer
Industry Expertise
Pro-actively re-designed the client experience, by delivering a consultative approach to identify client needs with a focus on simple, easy, and fast banking services that provide value. Set new standards for client interaction and interdepartmental
cooperation to ensure service requirements were met.
Drove engagement with local community through creating a values-based organization focused on the needs of the communities and clients we serve. Led the group at Fidelity, one bank out of only 14 nationally selected, to participate in the Youth Savings Program, which delivers financial literacy to school-aged children, alongside the FDIC.
Created and launched a "Six Step Process" for small business strategy, ensuring the new process was focused on nontransactional, needs-based service that filled in the gaps of client requirements. Implemented enhanced performance tracking and reporting metrics to determine success of new developments.
Oversaw all retail and small business banking units for the State of Maryland for a southeast regional bank leading a team across 91 branches and 420 team members responsible for over $950M in assets and $5B in deposits.
Memberships
Board Member Louisiana Bankers Association
Board Member Greater New Orleans Chamber of Commerce
Board Member The New Orleans Area Habitat for Humanity
Graduate of Louisiana State University Graduate School of Banking
Graduate of BB&T Graduate Banking School
Board Member Financial Institution Service Corporation