View all posts
Veterans should file PACT Act claims by August 9
08/02/2023
By: Terri Miller - Consumer Education Specialist, FTC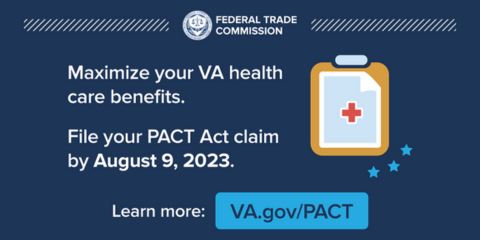 You may have heard of the PACT Act, which expands VA benefits and health care for veterans and servicemembers exposed to toxic substances while serving. And while there's no deadline to apply for these benefits, veterans and their families will get the most out of those benefits if they file a PACT Act claim by August 9. Here's what to know.
The PACT Act helps veterans get much needed help related to health conditions caused by exposure to burn pits, Agent Orange, and other toxic substances. If you submit your PACT Act application — or your intent to file — by August 9, you could get benefits backdated to August 10, 2022 — when the PACT Act was passed.
But scammers may try to pressure you because of the filing deadline. In fact, only a scammer will say you can only apply for VA benefits with their help. To help you avoid a scam:
Don't pay to file. It's free to apply for any type of veterans' benefits. Anyone who says otherwise is a scammer. File your PACT Act claim for free online through the VA's website or in person at a VA Regional Office.
Don't pay for help. Scammers may offer to help you file your application for benefits — for a fee or a percentage of the benefits you get. Get free help from an accredited representative.
Go to VA.gov/PACT to learn more. And share this message with someone you know. If you suspect a scam or run into someone who doesn't tell the whole truth about applying for VA benefits, tell the FTC at ReportFraud.ftc.gov.