View all posts
New Beneficial Ownership Requirements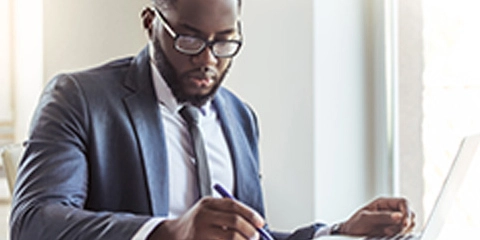 Business Account Requirements, Effective May 11, 2018
Important Information About Opening a New Account or Modifying an Existing Account
For Our Business Customers:
When you open a new account or apply for a new loan on or after May 11, 2018, you will be required to provide information about your beneficial owner.
A Beneficial Owner is:
Each individual who owns 25% or more of the company.
One individual who has significant managerial responsibility for the company.
Why the Change?
New rules under the Bank Secrecy Act require financial institutions to identify and verify business owners before a new account may be established. This rule applies to accounts such as checking, savings, Certificates of Deposit, safe deposit boxes and loans.
Each time a business account is opened we are required to ask for identifying information for each individual who has beneficial ownership (25% or more) and one individual who has significant managerial control of the business.
If you are opening an account on behalf of a business, you will also be required to provide appropriate documentation and to certify that the ownership information is accurate to the best of your knowledge.
For Existing Customers:
If you open an additional account, renew or secure a loan, ownership information must be provided.
In order to make this process as efficient as possible, you will need to provide:
Name
Address (Personal or Business)
Date of Birth
Social Security Number or Tax Identification Number
Acceptable Forms of Identification:

Driver's License
State-Issued Identification Card
Passport
Alien Identification Card
Why We Need this Information.
To help the government fight the funding of terrorism and money laundering activities, Federal law requires all financial institutions to obtain, verify and record information that identifies each person who opens an account.
Section 326 of the USA PATRIOT Act requires that financial institutions identify and verify the identity of the beneficial owners of all legal entity customers at the time of a new account is opened. The identification and verification procedures for beneficial owners are very similar to those you currently follow as individual customers.
What Businesses are Affected?
The rule applies to legal-entity businesses such as corporation, limited liability company, and general partnership, or other entity created by filing of a public document with a Secretary of State or similar office.
What Businesses are Exempt from the Requirements?
These businesses are generally exempt:
Sole proprietorships
Trusts and estates
U.S. and state government entities
Registered insurance companies
Publicly-traded companies and subsidiaries
Charities and non-profit entities
Unincorporated associations such as scout troops or youth sports
Customer Support
If you have any questions or need additional information, please call your Fidelity Bank banker or stop by your nearest Fidelity Bank location.
Customer Service: 1.800.220.2497
24 Hour FastLine: 1.877.931.2497